Digital money is undoubtedly one of the greatest achievements of new technologies. Bitcoin, for example, has brought innumerable advantages to its users since its creation. However, there are risks in investing in cryptocurrencies that you should be aware of before investing.
The opinions that cryptocurrencies have generated since their appearance on the market are diverse. Many of them are positive and others are negative, but regarding the latter, the important thing is to identify the real risks involved in crypto asset transactions.
In this article, MegaAcademy shows you the main risks involved in investing in cryptocurrencies. This will help you avoid any negative impact on your crypto asset investments.
What are the main risks in cryptocurrency investments?
Since their creation, digital currencies have revolutionized the digital financial market. Its accessibility and profitability have generated high value for investors around the world.
In addition, the use of cryptocurrencies has spread to almost all types of transactions. Today, they not only serve as high-value assets to increase wealth, but also for everyday activities such as paying for products and services.
These and other reasons are attracting more and more people to invest in cryptocurrencies.
However, there is an indisputable reality, and that is that every investment carries potential risks that, if you do not know how to manage or avoid, can wreak havoc on your investments.
For this reason, it is important to identify the dangers that you could face in the world of digital currencies. Now, learn about the three most common risks of investing in cryptocurrencies.
Unreliable portals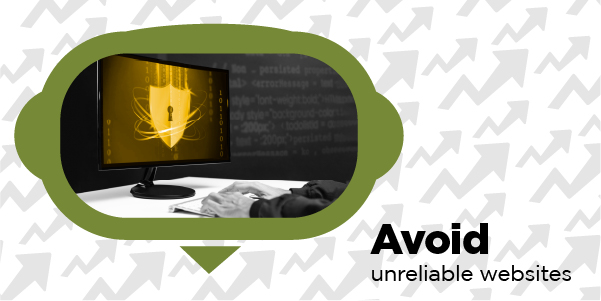 Cryptocurrencies have had a great boom in recent years, attracting large investors, but also unscrupulous people. Some dubious groups rely on the success and relevance of cryptocurrencies to commit activities that are detrimental to investors.
These groups are dedicated to creating portals that appear to be secure platforms to carry out operations in cryptocurrencies; when in reality it is about decoys that serve as a scenario to steal confidential data, defraud and commit other crimes that seriously affect users.
Impulsive transactions
Many cryptocurrency investors are characterized by making risky operations with the aim of obtaining a good return. This happens due to the good performance that these assets have on countless occasions in the markets.
While volatility can be attractive to more optimistic investors, the reality is that it can lead to serious downsides if optimism leads to impulsive trading.
Cryptocurrencies such as Bitcoin have seen their price grow impressively, but they have also suffered serious falls in value. This has caused ruin for many investors who, due to a good run, entered into hasty negotiations.
Wallet without guarantees
All cryptocurrencies are stored in the personal digital wallet of each user.
This wallet is protected by blockchain technology. However, there are cases in which the wallet is lost for reasons internal or external to the platform where it is hosted.
This, of course, results in the ultimate loss of the assets and there is no way to recover the digital currencies that were lost.
How to avoid these risks?
As you can see, cryptocurrencies are not exempt from suffering some risks that endanger your investment. The good news is that there are key strategies that prevent these dangers as much as possible.
Here we list some of the most effective actions to avoid any kind of risk with cryptocurrency investments:
Investigate the channel where you will make the transactions
It is about your money, therefore, it is essential that you dedicate special interest to research and analyze the platforms or exchanges where you intend to carry out your operations.
Check the reputation of these digital channels and make sure that they can offer you reliability in your transactions and a high level of protection for your confidential data.
Take a course on cryptocurrencies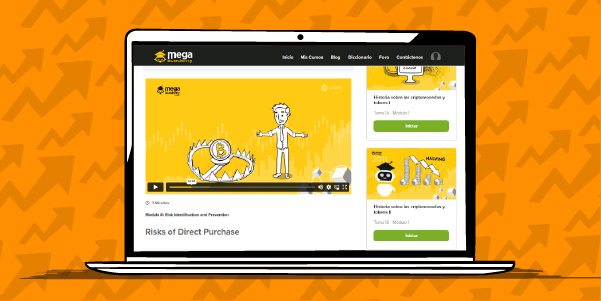 Knowledge is power. Acquiring knowledge and skills to negotiate with cryptocurrencies will allow you to make more accurate decisions that lead you to make accurate movements to obtain the profitability you want.
Opt for a cryptocurrencies course that will help you understand how the crypto universe and blockchain technology work. This knowledge will give you the tools you need to avoid any kind of risk and to buy and sell crypto assets with the best market advantages.
How does MegaAcademy help you in your investments?
At MegaAcademy we have specialized cryptocurrency courses so you can learn to operate like an expert on the main exchange platforms. The best thing is that you do not need to have previous knowledge to enter any of our courses, you just want to learn how to use crypto actives.
Our courses are designed so that you can easily learn everything about cryptocurrencies and tokens, blockchain, exchanges, wallets, P2P markets, OTC, crypto asset ATMs and more.
We give you the tools that you can put into practice when buying, selling and exchanging crypto assets.
In addition, you will gain the fundamental skills to avoid risks that could expose you to being a victim of scams and other illegal activities.
Conclusion
Cryptocurrencies have become a solid investment option. Their accessibility for any user and their attractive profitability make them position as one of the best alternatives to protect your capital and grow your assets.
Like any other investment instrument, cryptocurrencies also carry risks. The important thing is that you document about these dangers and learn to prevent your investment from being affected.
Do you want to acquire knowledge to operate in the crypto universe and avoid the risks that exist in the market? At MegaAcademy we provide you with the support you need to have a successful introduction to the world of cryptocurrencies. Contact us and find out about our online course!