Cryptocurrencies are the alternative to Fiat money.
With each passing day, many things from our daily lives are left behind and replaced by others. An example of this is payment by card, whether credit or debit. Not long ago you could only pay with cash and today it is no longer necessary to carry it, it is safer to carry a card.
Traditional money will last for many more years, but digital money is a reality. Cryptocurrencies are already used around the world by large corporations like Tesla and Google. In addition, they are used by governments of countries such as Japan, the US, Sweden, Germany, among many more, to make transactions, payments, purchases and other uses for Fiat money.
This is why it becomes necessary to know, understand, and apply absolutely everything about Cryptocurrencies. The best way to do this is with a course designed so that you can understand all the basic concepts easily, quickly and at your own pace.
If you do not want to be left behind in the era of the digital economy, you need to start getting involved in the Crypto world and the best way to do it is with the Basic Cryptocurrency Course of MegaAcademy.
Click to Tweet: Traditional money will last for many more years, but digital money is a reality. Cryptocurrencies are already used around the world by large corporations like Tesla and Google.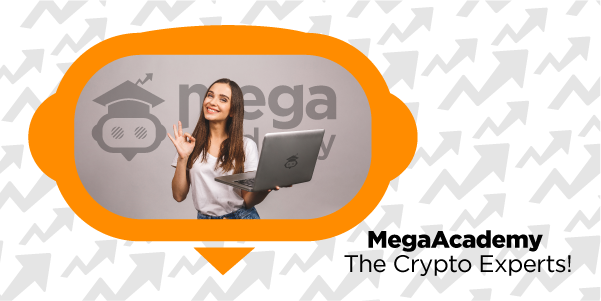 Cryptocurrencies will change the way you understand money.
By understanding about Cryptocurrencies, the perception of money, how to invest it and how to acquire it changes. Cryptocurrencies have the particularity of being decentralized, which means that they do not belong to any organization or country. In addition, these are characterized by having a value in accordance with the speculation of future adoption. This means that the more people use them, the more value they acquire.
The main idea of ​​Cryptocurrencies is to provide an alternative to fiat money, since it is regulated and managed by institutions, banks and governments. Behind the idea of ​​Bitcoin lies the idea of ​​giving people ownership of their money.
It is essential, therefore, to recognize that to master these concepts a guide is necessary, as well as when you do not know how to do an activity and you are looking for a teacher to teach you, and once he teaches it to you, you become an expert.
Knowing about Cryptos will help you learn more about digital finance and improve your investments.
A very important factor when making the decision to invest in Cryptocurrencies is their profitability. Every day that passes, news about the markets is heard and read and in them Cryptos are named as another product within the range of possibilities that they have the idea of ​​investing.
The numbers of Cryptocurrencies are very high, even when they have a bad day in the market, this means that they are very valuable. This is the first factor that people perceive when they talk about Cryptocurrencies.
This is why Cryptos are a very good option, but how does this help me? Understanding how Cryptos move in the market will give you a better vision to make decisions for when you want to invest. Thus, it is important to have previous knowledge for this.
This is where the need to take a course is evident, with didactic material and with the time availability that suits you so that you have the necessary tools to understand everything related to Cryptocurrencies.
Taking a Cryptocurrency course is essential to mitigate mistakes.
The Basic Cryptocurrency Course of MegaAcademy gives you all the tools you need so that you can function in the Crypto world. The course is designed to provide you with the necessary information so that you understand the basic concepts and where you will find the following topics
1. Discover the origin of Digital Money (Cryptocurrencies).
2. Blockchain (the protocol used by all Cryptos). its basic concepts and what other uses this technology has.
3. We will talk about the exchanges, their purpose, operation, how they operate and what are their main characteristics.
4. You will learn about wallets, their different types and how to choose the most suitable one for you.
5. We will address the Cryptocurrency trade, to acquire products, services, make exchanges or buy and sell for FIAT money.
6. We will describe the ICOs or Initial Coin Offerings, the DAOs and the DAICO's as well as the concepts of white paper and roadmap.
7. We will present the main tools to operate your Crypto assets.
8. Finally we will talk about the identification and prevention of risks, how to take care of the main dangers and protect your digital money.
MegaAcademy gives you the opportunity to safely enter the world of Cryptoassets. With the Basic Cryptocurrency Course you will have the option to adapt your learning speed, the separate topics with videos are at your disposal so that the approach is according to your needs and to the intensity that you want.
Don't miss the opportunity to start a course that will change your life as it will open up a world of new opportunities. Cryptocurrencies will transform your way of understanding money and investing. Learn with MegaAcademy, The Crypto experts.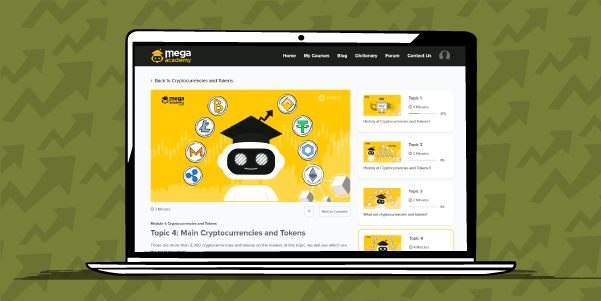 Why at MegaAcademy?
MegaAcademy is a space designed for people like you who feel the need for a change in their finances and want to understand the Cryptocurrency system, the change of updating and modernizing in a competitive world that waits for no one.
Thus, we see that new technologies have brought with them new types of currencies such as Cryptocurrencies. These, although relatively new, have marked an upward trend in international markets, so it is important to consider them in your daily life.
That is how MegaAcademy was born, with the mission of teaching you about the Crypto world and Cryptocurrencies like Bitcoin and how to use them. With the Basic Cryptocurrency course, you will understand in a didactic and simple way everything you need to know to start your path to the Crypto world.
MegaAcademy offers you in its basic Cryptocurrency course a series of video teaching materials that will help you understand, at your own pace, the basic concepts of the Crypto world. Such as: What is blockchain? What are Cryptocurrencies? How to make transactions and most importantly, How to identify risks.