Cryptocurrencies are international digital assets that have grown in popularity in recent years, but this technology is not new. It all started in the 1980s with the rise of the Internet, when several system engineers came up with the idea of ​​a digital currency that could be used like traditional Fiat money.
It was not until 2008 that the enigmatic Satoshi Nakamoto implemented, with the help of Blockchain technology, the first digital currency which he called 'Bitcoin'. Since then, more than 9,000 Cryptocurrencies have been developed, living together in digital markets.
Thanks to this technological development, thousands of people around the world have adopted the use of Cryptocurrencies, because they, in addition to working like fiat money, have several advantages.
Bitcoin and other Cryptocurrencies are the evolution of FIAT money.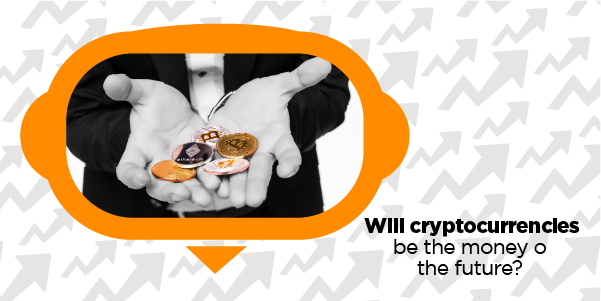 Throughout history there have been many technological advances that have improved the quality of life of human beings. For this reason, a way to improve all day to day processes has always been sought and thanks to this we can enjoy many things, from cooking with electricity to ordering food from your favorite restaurant with a single click.
But what is FIAT money? Money is any good or asset that is accepted as a means of payment or exchange. This concept is born from the need of the human being to change objects but since their value is unequal, the price valued in gold was established.
This is why, the creation of gold, silver or bronze coins made it easier for people to manage their possessions and this led to the creation of commerce as we know it today. This system worked until large sums of coins began to accumulate, and their storage and transportation was not at all secure, which led to the invention of paper money. This innovation made it possible to carry larger sums of money, but it was easy to copy, which is why many countries created different measures to prevent counterfeiting, and controls were implemented by governments, through banks, making it difficult to free transfer of money to other countries.
This is why the idea of ​​Cryptocurrencies acquires great importance, due to its independence from government control and its advantages when carrying out operations with assets internationally.
Why is it necessary to learn to operate with Cryptocurrencies?
Currently, Cryptocurrencies are taking a very important role in the world economy, learning about Crypto assets becomes a necessity since they are quickly positioning themselves as the preferred alternative for money.
With Cryptocurrencies you can invest internationally, make purchases online safely and send money worldwide with the lowest commission on the market, they also give you financial freedom since they are decentralized and you can manage your money without intermediaries.
Crypto assets are volatile, their value changes depending on supply and demand allowing traders to find good opportunities to generate large returns. For this it is very important to understand the contexts that impact digital currencies such as social, political, economic and regulatory aspects.
With the Basic MegaAcademy Cryptocurrency Course, you will develop the necessary skills to analyze the most relevant factors that influence the market and thus carry out operations strategically and maximize your investment.
What do I need to know to trade Cryptocurrencies?
To delve into the Crypto world, and be able to understand it, it is necessary to know what Cryptocurrencies and tokens are, delve into the origins of digital money in order to have a clear perspective of the markets.
Another fundamental concept is Blockchain, which is a protocol used by all Cryptos for the validation and verification of all transactions; this technology has many practical applications in addition to Cryptocurrencies.
Once you master these concepts, you will ask yourself: Where can I buy Cryptocurrencies? and the answer is the exchanges that are the places of exchange for digital money.
It is also important that you know where to store your Cryptos, that is why Wallets have been created, at MegaAcademy you will learn about their different types and how to choose the most suitable one for you.
It is important to note that Cryptocurrency Trading has its own investment models such as ICO, DAO,DAICOr and the documents of each Cryptocurrency project asWhitepaper andRoadmap.
Finally, it is essential to know the main tools to operate your Crypto assets and to identify and prevent risks in order to take care of the main dangers and protect your digital money.
How to learn about Cryptocurrencies?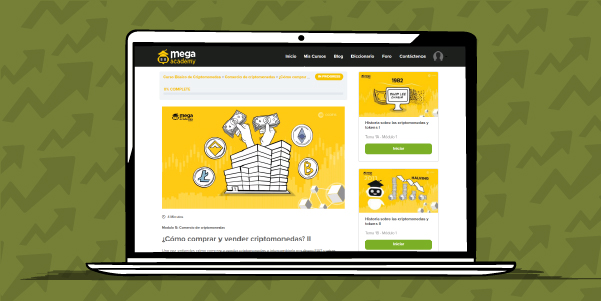 Through the internet you can access a lot of information on the subject of Crypto, finding reliable sources to understand the necessary concepts can be a little more complicated, and it can take you more time than necessary to organize the information required to operate on your own.
There are also educational institutions that offer courses on Blockchain and Cryptocurrencies, however, these contents are not always up to date and in addition to being expensive, you have to stick to the institution's schedule, which in the end becomes tedious to study.
Finally there are online courses dedicated to the subject of Cryptocurrencies taught by experts such as MegaAcademy, which with its Basic Cryptocurrency Course aims to bring learning about the Crypto world so that anyone has access to it without the need for prior knowledge.
Conclusion
In MegaAcademy you will find everything you need to learn about Crypto. With its Basic Cryptocurrency Course you will have access to all the educational content, to question forums with experts and a glossary with all the relevant terms, 24 hours a day, 7 days a week at your total disposal.
In addition, this month MegaAcademy presents its multi language version that extends its reach to English speaking markets such as the United States, the United Kingdom or Australia; and also to French speaking countries such as Canada, France or African countries with a French language.
Go ahead and learn more about Cryptocurrencies and their advantages. Join the Basic Cryptocurrency Course today MegaAcademy, the Crypto experts.