Backed cryptocurrencies by physical assets have become the best option to protect investments. These types of Crypto assets have the function of creating greater confidence in a sector characterized by high volatility.
There are many investors who want to invest large sums of money in the Crypto market, but are afraid of losing their money. Thus, backed Cryptocurrencies represent the best option for those who do not see guarantees when investing their capital in this market.
Do you want to invest in digital currencies, but need to protect yourself from volatility? At MegaAcademy we bring you five Cryptocurrencies that have been shown to be backed by physical assets.
Main physical asset-backed Cryptocurrencies.
Backed Cryptocurrencies are tokens associated with the value of physical assets such as the Dollar, Gold, real estate, and even oil.
There are also other Crypto assets that are not associated with any physical asset. Instead, it is about Algorithmically Controlled Cryptocurrencies to maintain a stable price.
The main objective of the supported Cryptocurrencies is to try to offer refuge and stability to investors in times of high volatility.
Next, we list five of the best alternatives to invest in Cryptocurrencies with support.
Tether – Dollar support
Tether is one of the most supported Cryptocurrencies among investors. In fact, it is considered the largest stablecoin in the world. This is due to several reasons. Among them, in its reserves there are US Dollar funds.
Tether's market capitalization is approaching $70 Billion. This makes it the first investment option if you are looking for protection during uncertain times.
Pax – Gold Backing
It is the second most valuable backed Cryptocurrency after Tether. Pax has a technology based on Ethereum and has, nothing more and nothing less, than the approval of the New York department of financial services.
As if that was not enough, Pax works with UK gold broker Brink's. Each unit of this Cryptocurrency is the legal owner of a piece of physical gold.
Real Estate Backed Tokens
This way of investing is one of the best investment vehicles due to the stability that real estate provides. How does this market work? Through platforms in which the investor acquires the tokens with fractions of real estate.
The destination of the acquired assets will be a trust that will be used to invest in properties that will generate income through rentals. The key to this type of investment is the way in which the platforms link the property to the Cryptocurrency.
As an investor you must ensure that the platform issues a Real Estate Participation Certificate (CIP). In this way, ownership of the property is guaranteed and the investment is protected.
Petro – Oil backing
This Cryptocurrency does not have the same recognition as the rest. However, it is among the Crypto assets on the market that are backed by physical assets, specifically raw material.
The creation of this Venezuelan Cryptocurrency was announced in 2017 and is backed by oil. It is a Crypto Active that has faced numerous criticisms and controversies from governments and international financial regulators.
Digix – Gold Backing
This Cryptocurrency is based on Ethereum and its price is linked to gold. 1 Digix equals one gram of the precious metal. It is one of the tokens that generates the most confidence because gold is one of the most solid investments on the market.
In fact, gold is one of the investment instruments that increases the most in times of crisis.
How do gold-backed cryptocurrencies work?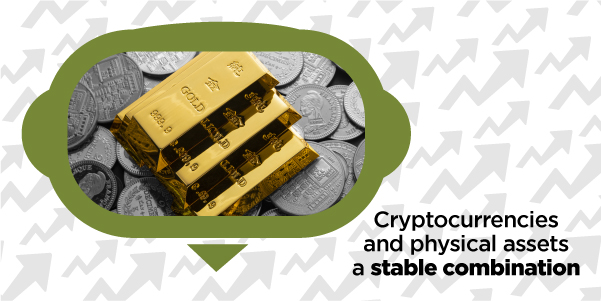 The boom that gold-backed Cryptocurrencies have had is indisputable and they are attracting more and more investors. One reason is that you can invest in the metal without having to worry about needing a broker or intermediary.
A gold-backed coin is a digital asset that is entirely tied to the price of the metal. That is, a token equivalent to the value of an ounce of gold in the standard market.
These assets work in a similar way to digital assets. To invest in them, you must first have a digital wallet which will serve to store your Cryptos.
Once you have your wallet you can buy and sell your Cryptocurrencies whenever you want. All transactions will be carried out through the exchange (Exchange platform) of your choice.
So… Is it better to invest in these Cryptocurrencies?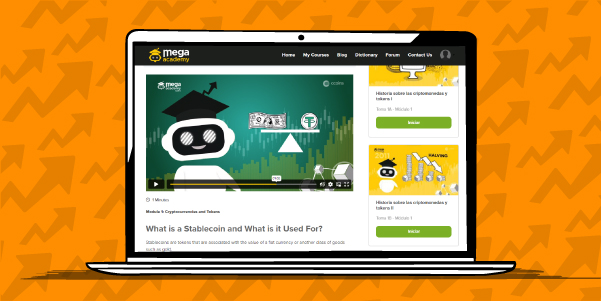 Since its appearance on the market, Cryptocurrencies have represented an innovative and profitable investment alternative. Although they do not exist in physical form, they are assets with a lot of potential and a great future ahead. Above all, in a world where digitization is gaining strength more and more.
Reasons to invest in Cryptocurrencies? It is an accessible market for any investor profile, even if you are not an expert. You do not need intermediaries, it generates high returns and no risks of devaluation.
And the best of all, this market also offers the opportunity to invest in digital assets that are backed by physical assets.
In conclusion, backed Cryptocurrencies are a safe haven asset to protect your investment, even in times of crisis and high volatility.
Learn to make the best investments in Crypto assets with MegaAcademy
Are you thinking of entering the Crypto market, but you are afraid to take the first step because you do not have the right knowledge? In MegaAcademy We offer you the opportunity to train in blockchain technology and more, so that you can successfully start in the world of Cryptocurrency investments.
We have basic courses for you to start your investment on the right foot. The best of all is that to enter the course you do not need to have previous knowledge, only being eager to learn.
Conclution
The Crypto universe offers endless opportunities to grow your capital. However, not all investment alternatives offer the same level of strength.
To invest safely, you first need instruments that give you reliability.
In this sense, backed Cryptocurrencies represent an innovative and reliable investment alternative. Having backing with physical assets allows you to make your capital profitable and protects it in times of crisis and high volatility. Meaning that, your money grows and is safe.
Do you want to gain blockchain knowledge and skills and successfully invest in backed Cryptocurrencies? In MegaAcademy We provide you with the tools you need to invest like an expert in the Crypto universe. For more information consult our website.